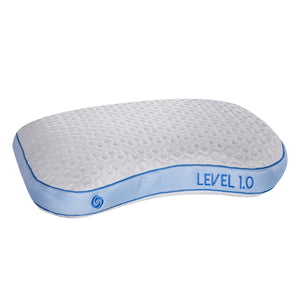 Level 1.0 Pillow by Bedgear
Regular price
$139.75
Sale price
$125.00
---
Sleep Better With the Bedgear Level 1.0 Pillow
The Bedgear Level 1.0 Pillow is optimal for side or back sleepers with a small body frame. You can trust that we have sleep tested the Level 1.0 and feel confident in its quality and performance.
NEW and curved to fit you just right, the Level Performance series by Bedgear has a crescent shape design to support your head, neck and shoulders while you sleep. Featuring the latest Dri-Tec® fabric surface with a new hexagonal pattern, it wicks away moisture created by body heat, and is exceptionally soft to the touch.  The Air-X panels with our patented 3D mesh fabric technology maintain proper air flow and keep excess heat out to maintain ambient temperatures, while also preventing allergens and dander from entering the core.  The React® blend pillow core is made up of our own blend of silk-feel fibers that create weightless support while conforming to your unique shape and alleviating pressure points for a more restful, healthy sleep.
Find the Perfect Bedgear Product for Your Body Type and Sleep Position
Besides the Bedgear Level 1.0 Pillow, we also carry the rest of the Bedgear Level Series, Bedgear Level 0.0 for stomach sleepers and x-small body types, Bedgear Level 2.0 for side or back sleepers and medium to large body frames, Bedgear Level 3.0 for side sleepers and large body frames, and the new and improved Bedgear Storm Series, Storm 0.0 for stomach sleepers and x-small body types, Storm 1.0 for stomach sleepers and extra-small/small body types, Storm 2.0 for back sleepers and medium body types, and Storm 3.0 for side sleepers and large/extra-large frames. Find a comfortable item that's right for you and sleep cooler, drier and better for maximum recovery at night.
The Level 1.0 Performance Pillow Features Air-X Panels, Dri-Tec Fabric, and More for Superior Airflow and Support

Size: 20x26
Dri-Tec®:  Moisture wicking fabric keeps you dry and cool for a more restorative sleep

React®: 

  Blend fill and core contours to you with weightless support that eliminates pillow bounce to improve deep sleep, support, and comfort throughout the entire night

Unique Cuddle Curve Shape:

  Cradles your head, neck and shoulders to provide complete support while maintaining superior comfort.

Air-X Panels:

  Ventilated side panels provide maximum airflow, shifting away excess heat so you sleep more comfortably and keep your head, neck, and shoulders at the ideal temperature throughout the night.
You deserve to get a more comfortable sleep every night and feel rested every morning. So, invest in your own happiness and health by purchasing a Bedgear product that fits your body type and sleeping style.  The Level 1.0 is perfect for side and/or back sleepers with a small frame.
Here at Curated by Norwood, we test every product for quality and performance, so you can't go wrong by purchasing any of the products we offer.  We wouldn't sell any products that we wouldn't sleep on ourselves, and we rest our heads on our Bedgear pillows every night.