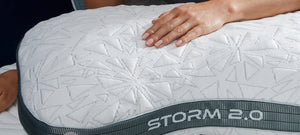 Pillows
---
CURATED BY NORWOOD OFFERS AN EXCELLENT SELECTION OF TOP QUALITY BEDGEAR PILLOWS 
The highly sought after Bedgear PIllow brand offers pillows for everyone - side sleepers, back sleepers, stomach sleepers as well as pillows that help you stay cool.  Or maybe you prefer a softer or more firm pillow.  We carry a full line to meet your sleeping preferences.   
The most important role a pillow provides is support for your neck and upper back when you are asleep.  We need the support of a pillow when we are sleeping because our spines are naturally curved.  Having support for your head and neck helps to maintain the proper alignment of these areas of the spine.  The human spine has 33 vertebrae, 12 of which are supported by your pillow.
GET THE PERFECT NIGHT'S SLEEP YOU'VE ALWAYS DREAMED ABOUT!
FREE SHIPPING ON ALL PILLOWS
---