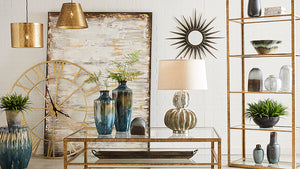 Accent Furnishings
---
Accent furnishing pieces of high quality craftsmanship and innovative presentation will create stylish & versatile impressions for your home. Elevate every room in the house by collecting tables, chairs, display cabinets, benches chests and sought out signature pieces to add to your lifestyled home.
We have an eclectic assortment of fabulous Accent Furnishing finds combining function and fashion to provide the perfect finishing touches for your living spaces.
---
Sorry, there are no products in this collection.