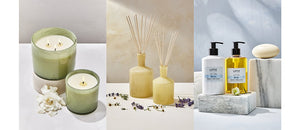 Simple Luxuries
---
Simple Luxuries Candles, Diffusers, Hand Creams & Soaps Are a Beautiful Experience
---
Norwood shops many markets throughout the year and one of our favorite finds is the Luxury Articles and Fragrances Company - LAFCO.
Luxury Articles and Fragrances Company combines traditional craftsmanship and the purest ingredients to create naturally luxurious home fragrances and personal care products.  The company's unique collection of LAFCO hand creams and diffuser systems are made from globally sourced essential oils.  Curated by Norwood's vast and luxurious collection of Lafco Diffusers, Candles, Soaps and Lotions are all natural and made from carefully sourced Essential Oils.  The products are hand produced using both long-established botanical production practices and cutting-edge technology.  
We are honored to introduce the new Absolute Collection, which harnesses the power of highly concentrated fragrance oils, known as absolutes, to create an exquisitely aromatic experience that is uniquely true to nature.  Paired with layers of color in handblown glass to create a shimmer of hues, each candle has been designed to illuminate your space and your senses.  A pure expression of our commitment to natural ingredients, traditional craftsmanship, and principled practices, the Absolute Collection brings a new level of artistry to home fragrance and luxury candles.
It's not only about the look.  It's about fragrance, thoughtful craftsmanship and pure ingredients.  It's about Simple Luxuries and Finer Living for You!
While discovering products you would like to try, don't forget, these jewels also make beautiful gifts for the important people in your life.  It's a thoughtful way to show someone how much they mean to you!
The fragrances from our Simple Luxuries Collection are designed to evoke an emotional, sensory response:  Soothing, Invigorating, Meditative &  Inspiring.  Enjoy!             
Shipping Calculated at Checkout

---