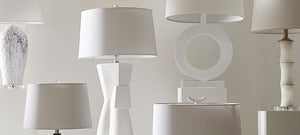 Lamps
---
Lamps are one of the most important accent pieces for your home.
The aura of soft light or localized illumination accentuated by a touch of design and style provide the perfect finishing touch in the room.
Lamps on trend make a statement of timeless appeal adding a special personal reflection of functionality and decor.
Shop our Lamp Collection to find the lamp that will be a unique addition to your interior landscape.
Free shipping for orders over $1299
---